Hi girls, how are you today?
Have you ever wondered how to shop for sneakers online? I know this might sound silly, but there are some important considerations before you ever go online to buy your next sneakers.
Sneakers have grown in popularity among women, especially as more ladies have started ditching high heels for comfortable sneakers.
These fashionable kicks are great for different occasions and uses, whether you want to go on a hike or even to attend a laid-back wedding (yep, this is happening).
Whatever the case may be, you should know that shopping for sneakers online can be tricky. There are numerous website options to choose from, mainly because of how popular they have become.
So, to make this process easy and fun, we have provided a list of things you need to think about when shopping for sneakers online.
RELATED: Best Ways to Pair White Sneakers With Dresses
This post may contain affiliate links. If you make a purchase though any of the links, we might make a small commission. Read our privacy policy here.
---
The Best Ways To Shop For Sneakers Online
What Types of Sneakers Do You Need?
Sneaker Features to Think About
Think About Your Ideal Style
What Colors Do You Choose?
Now let's dive into each of these important categories when considering the best way to shop for your future perfect kicks with the help of the mighty internet.
How to Shop For Sneakers Online So You Find Your Perfect Shoes
1. What Types of Sneakers Do You Need?
Shopping for sneakers is not as easy as going to a shop and picking a pair as you have to think about the type of sneakers you would like.
There are different types of sneakers depending on what you want to do with them and where you want to wear them.
For example, running sneakers are not exactly fashion sneakers. You can run in them, but they would look out of place at brunch.
A good place to start is to check out classic leather sneakers. These are tennis shoes that are very comfortable and stylish that they can be worn in most places.
Low tops are also a great option because they are understated yet remain stylish. They are very comfortable and are best suited for those who do not need too much support.
If you want to make a particular fashion statement or require a lot of support, high-top sneakers are great for you. Several designers make them, and they are easy to find.
You can also choose slip-ons that are easy to slip on and off and are greatly suited for the fall.
There are other design variations such as sneakers with a different-colored sole or that have decorative elements, which could be something you can consider.
2. Sneaker Features to Think About
This is another super important item to be taught in how to shop for sneakers online. Once you know the type of sneaker you want, think about the features you want in the sneaker.
We have talked about support with the high-top sneakers, but there are other features to think about.
For example, you might want sneakers made of breathable and soft materials if you are going to be wearing them for a long time.
Both of these features are important for those who want sneakers that are as comfortable as possible.
Those who travel a lot will be glad to know that there are lightweight sneaker versions that are easy to pack and carry. There are also sneakers with softer and harder soles depending on feet sensitivity and how you want the sneakers to feel as you walk or run in them.
Knowing what features you need is essential, especially when you go shopping at a physical store. You can tell the associate or attendant what you are looking for and they will try their best to get it for you.
3. Think About Your Ideal Style
As with all other fashion items, sneakers also come in a variety of styles. Picking from the numerous designs available can be the most time-consuming part of shopping for sneakers.
Sneakers come in a range of styles, from rugged and sporty to fun and quirky. Additionally, the construction of different sneakers differs as every sneaker manufacturer tries to make theirs look and feel different.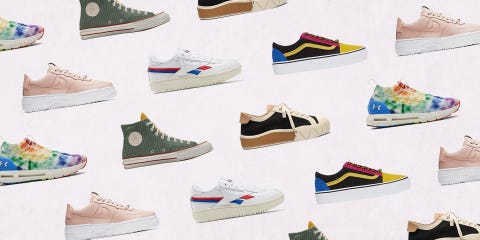 When looking for sneakers, go with styles that appeal to you strongly.
If you are not sure about which styles to choose, you can look through various sneaker lines like the Golden Goose Sneakers.
These sneakers come in a variety of styles to suit different tastes. Golden Goose sells high-end sneakers and fashion items through various high-end retailers like SSENSE.
Their focus is on high-quality construction, craftsmanship, and style. To see what they have to offer, you can check out this high-end designer here.
4. What Colors Do You Choose?
While this may seem trivial compared to features and styles, it is still important, especially because you are shopping for fashionable sneakers.
Colors can not only make or break the sneakers, but they can also dictate the types of outfits you can wear with the sneakers.
For most people, neutral colors like white are the best option. Neutral colors do not go out of style, and they are easy to pair with different attires.
However, some people consider them boring and mundane. If you feel this way, you can go with colors like blush. Blush is one of the trendy colors that are both fun to style and wear and is versatile enough that you will be wearing the sneakers for years.
Choosing a great pair of sneakers is not as easy as going to a shop and choosing ones that fit, especially if you are looking for fashionable sneakers.
You need to think about what you want in the sneakers as well as their versatility so you can get the most out of them.
What's The Best Online Shoe Store in 2022?
Online shopping is AMAZING because it's convenient, easy, there's a huuuuuge range of options (plus, you can do it from anywhere in the world, anytime).
Shop from the comfort of your couch, between boring meetings, or even while mindlessly scrolling your phone.
So if you're looking for the best online shoe stores in 2022 to buy your next stylish, check out the below list,
Best Online Shoe Stores For Every Sneaker Type
Below are the most popular online shoe stores where you'll be sure to find the best sneakers for every taste.
Casual Sneakers
High Fashion Sneakers
Most Popular Online Shoe Stores, Overall
We love hearing from you!
What's your favorite online store for buying fashionable sneakers? Let us know in the comments!