In skincare, serums are rightly called heavy artillery – they have no equal in terms of the power of their impact.
And if you haven't included serum in your beauty arsenal yet, then you will certainly do it by reading this article.
If you ever wondered if you were doing it correctly or not, this post will teach you exactly all you ever wanted to know on how to apply a face serum so you start seeing results.
Let's start!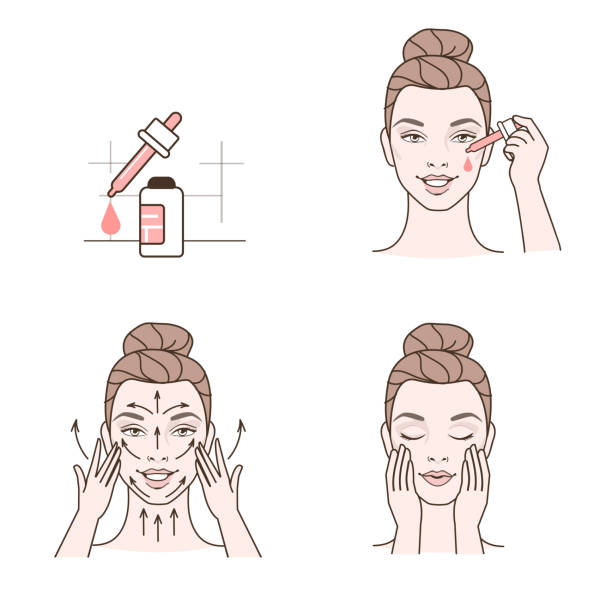 What is a Face Serum?
A serum is a cosmetic product in which active ingredients are presented in high concentrations.
That is, the active ingredients are the same as in creams, but their specific gravity is many times greater. The formula of the serum is such that it is almost instantly absorbed and shows the result faster than the cream. Sometimes, instantly.
Active ingredients make up to 70% of the serum, while in creams they are 10-12%, the rest is the base and structure-forming ingredients: emulsifiers, emollients (softeners), thickeners, film formers.
What Does a Serum Do For Your Face?
Serum complements and enhances your usual care.
This is an "ambulance" for the epidermis. It may contain vitamins, natural extracts, antioxidants, peptides, collagen, oils, anti-inflammatory components.
An important question is how often to use a facial serum and when to start using this product. 25-30 years old is the ideal time to start getting acquainted with the serum.
For young skin, you can use the serum in regular courses – for example, use the product for 1-1.5 months, and then give the epidermis a rest for 2-4 months.
And after 40 years, you can switch to another remedy, depending on the new needs of the epidermis, and use it constantly.
How to Apply Face Serums
At La Belle Society, we are passionate about skincare and we're always talking about the best ways to make the most out of your skincare products.
Serums might seem like a no-brainer, but depending on the order you apply them (and how you g on about it) can actually affect its effects on your skin (big no-no).
this means you'll be spending your hard-earned money on expensive beauty products that might yield the results you wanted. But that's (probably) because you're not applying it correctly.
How to apply face serums correctly so that you get the best results from your beauty products:
Clean your face as you normally would
Apply a toner
Serum time!

Use the palm of your hands to gently apply the serum to your face and neck
The trick here is to lightly tap, pat, (instead of spreading it out)
Avoid tugging the skin and rubbing too hard, let the product absorb on its own once you've smoothed it out.
Again. the best way to apply your face serums is to gently tap the serum to your skin!
Rubbing it onto your face is not advised. Serums should be pressed and patted into the skin so that it can fully absorb all the benefits
I really can't express this enough.
To allow serums to fully absorb, apply and wait 5 minutes before moisturizing.
Take note: Well-formulated serums absorb quickly and disappear into your skin. If they leave an oily or sticky residue, they're not doing their job well
Consider adding antioxidant serums and creams to the roster by your late 20s to help combat aging skin and the decrease in collagen production.
As you cross over into your 30s, you can start adding retinol and retinoid products into your anti aging skincare routine.
RELATED: Finally! The 10-Step Korean Skincare Routine, Explained.
Serum Types
Serums can fulfill a specific mission or a whole range of rejuvenating obligations, such as:
moisturizing;
nutrition;
regeneration;
lightening age spots;
increased skin density;
stimulation of collagen and elastin production;
restoration of water-lipid balance.
And all this in one bottle.
Serum Composition
Here are some main ingredients:
antioxidants – enzymes, polyphenols, minerals;
vitamins C, E, group B, retinol;
hydrofixators – hyaluronic acid, glycerin;
acids AHA, BHA, which provide peeling;
peptides that stimulate the production of collagen and elastin.
RELATED: Don't ruin you skin! Learn how to know if a skincare product is good for your skin.
Serum Features
Usually, serum, unlike cream, does not create an occlusive film on the skin, therefore, it requires subsequent application of the cream.
By supplementing the care with a serum, you will increase the intensity of other products and, accordingly, notice the result earlier.
Kakadu Plum face serum prepares the skin for cosmetic procedures, prolongs their effect, and speeds up the rehabilitation process.
How to choose a face serum?
For example, if you are concerned about age-related changes in the skin, and you are looking for a rejuvenating and effective facial serum, and also want to correct imperfections around the eyes: dullness, wrinkles, weakened or brittle eyelashes.
In this case, a serum for a youthful look is suitable for you. It transforms the entire area around the eyes, even the eyelashes!
Wrinkles are noticeably smoothed out already after 10 minutes, eyelashes become thick and strong after a month.
Thanks to the lifting effect, the look will become more open and youthful. Use the serum daily in the morning and evening, treating not only the contour of the eyelids but also the eyelashes. This is a great makeup base!
Do not forget to use the cream from this series along with the serum.
Women during menopause are characterized by a feeling of discomfort due to dry skin and loss of its density.
Dullness, sagging, decreased tone are natural signs of a decrease in sebum synthesis and skin aging. The serum gives intensive nutrition, restores protective functions, stimulates the production of own lipids.
The concentrate of restorative oils restores density, radiance, and clarity to the oval of the face.
Carefully study the composition of the product: each component will provide its effect.
Combination skin prone to rashes will be restored by mandelic and hyaluronic acids.
Dry skin needs hydrating agents and powerful moisture-retaining and emollient ingredients such as ceramides, glycerin, and hyaluronic acid. Mature skin needs antioxidants, vitamins A, C, and E, peptides, retinol.
But remember that retinol and vitamin C work at different pH levels and reduce each other's effectiveness, don't use them together in your skincare routine.
For oily, acne-prone skin, retinoid, retinol, a small concentration (up to 10%) of mandelic acid, salicylic and azelaic acids will be a good company.
Reactive and sensitive skin needs ingredients that will soothe the epidermis: allantoin, niacinamide, algae, and probiotics.
Facial Serum Benefits
The serum is needed to see the result after the first application on the skin of the face. It is important to know that serums do not solve all problems at the same time, and work only in one or two directions.
That is why they should not be chosen according to the type of your skin, but according to the problem that you want to eliminate.
So what does a face serum do?
Eliminates dryness and normalizes the moisture balance in the skin;
Optimizes the work of the sebaceous glands and activates blood circulation;
Serum restores skin elasticity and maintains its tone;
Gives a visible effect of rejuvenation and improves the appearance;
Whitens and eliminates hyperpigmentation.
Eliminates dryness and normalizes the moisture balance in the skin;
Optimizes the work of the sebaceous glands and activates blood circulation;
Serum restores skin elasticity and maintains its tone;
Gives a visible effect of rejuvenation and improves the appearance;
Whitens and eliminates hyperpigmentation.
Face Serum 101
We hope this post was helpful to you. Serum is only one of the many (many) amazing skincare products that every woman should be applying, religiously.
I might be biased, but as you may know, I love SKINCARE (I follow the Korean skincare routine every day, no joke).
Be sure to follow these helpful tips on how to apply face serums and I guarantee you'll look and feel amazing.