So, the season of falling leaves is here! If you're looking for creative ways to style a leather jacket, search no more.
A season that brings chilly winds, crunchy leaves, ripening apples, and lots of unexpected downpours. This is probably a time when everyone sleeps under a comforter and get cozy inside coz it's cold, while keeping one leg out coz it's hot.
If HBO's popular medieval fantasy series "Game of Thrones" was set anywhere in the northern hemisphere, Eddard Stark's popular catchphrase would be like "Winter is coming. Okay, now, it's hot again. Never mind!"
While that may not be the case, the whole process of transitioning from one season to the next is no less a battle for the citizens of Westeros.
But if we name one wardrobe that keeps you relevant to this season is the ever-iconic 'Leather Jacket.'
A leather jacket has a unique edginess that oozes appeal, unlike any other outwear options. Besides, it's classic transitional wear that looks Oh-so cool if styled correctly in this awkward in-between season!
Fall is soon upon us. And besides planning our autumn manicure colors and thinking of all the most elegant outfits we can wear this season, one question remains: what do you wear with a leather jacket?
You can wear an all-black leather jacket ensemble to commit to its edgy theme, keep it low-key and wear it with jeans, or you may also like wearing it with skirts or an even with evening dress.
This post is the ultimate inspiration for the best ways to wear a leather jacket this Fall. You'll find from the coolest street style and classic ways to wear a leather jacket, to edgier fashion, such as oversized leather jackets, cropped jacket styles, motorcycle jackets, etc.
So yes, mark my words: leather jackets will never go out of style.
Here, we have listed 5 stylist-approved ways to style a leather jacket this fall, look stylish, and make a bold statement when the weather gets cold.
5 Best ways to wear a leather jacket this Fall
Learn more about how to style leather jacket outfits this year.
The iconic moto jacket
Leather bomber jacket
Water-resistant+ colorful leather jackets
Leather jacket with denim shorts
Military-style jackets
The leather jacket can complement various outfits, playing supporting and starring roles in an ensemble. Consider the following types of leather jackets and how to wear them:
Let's go into each of these, one by one.
1. The iconic moto jacket
These iconic biker jackets have a boxy cropped fit with a collar that can be left open or zipped up to the neck for extra warmth.
These jackets come with studs and cuffs and with pockets on either side of the torso.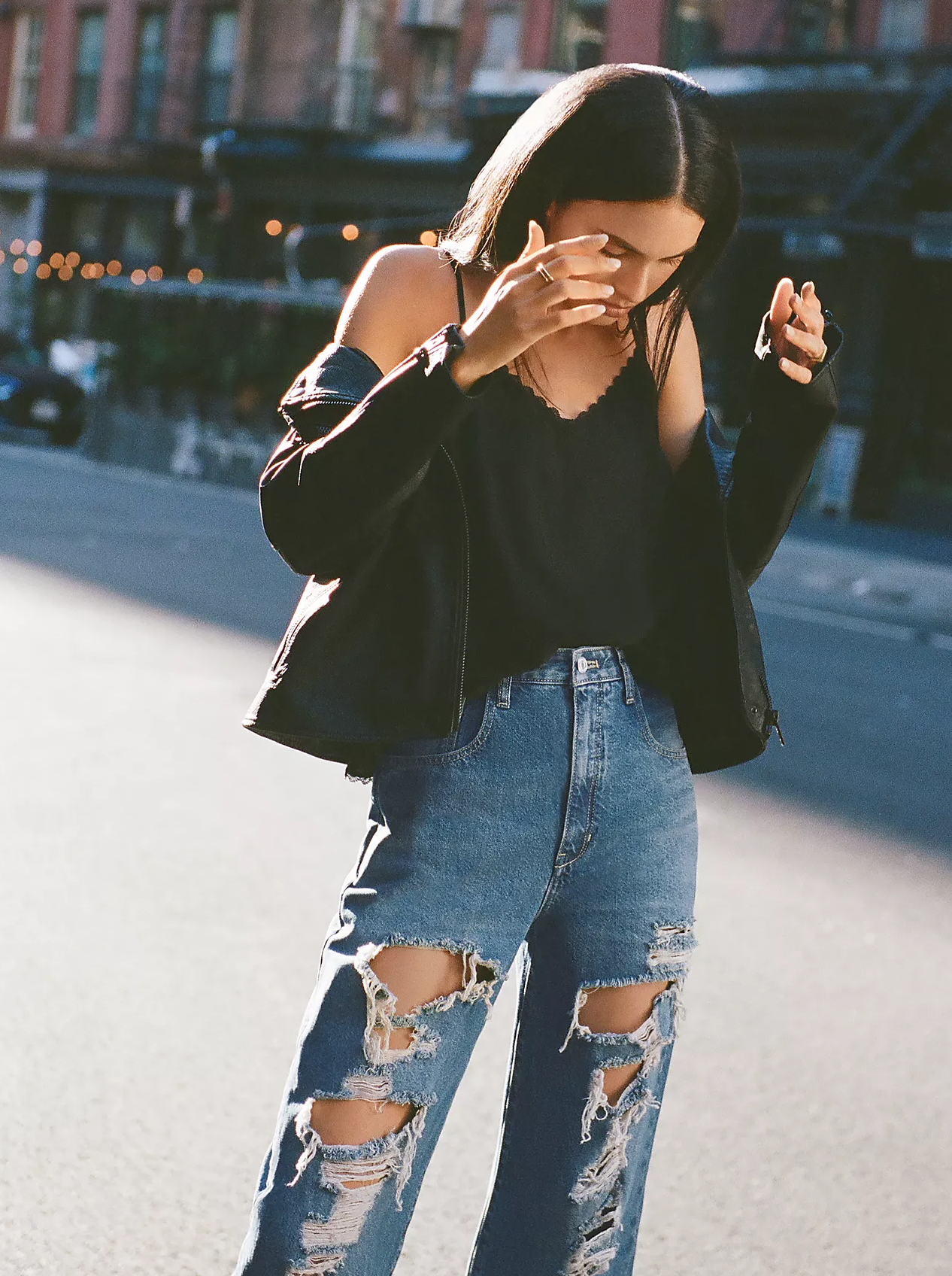 You can style it over trousers, skirts and even dresses – well, it depends on the weather, and obviously, your mood.
Styling a women's leather jacket with a dress is heavily climate-dependent, and probably suitable for those living in warmer conditions. You can throw on a chic little dress and a motorcycle jacket for an effortlessly cool look – best for a lunch date for sure.
If that's not you, you can style your moto jacket with slightly ripped jeans and a pair of white stylish sneakers or even maybe a trendy cowboy ankle boot. This will give you an overall biker-girl look – with or without a Harley, of course!
Style tip: If you choose to wear your leather moto jacket with a dress, go with a more feminine one that gives you a perfect blend of elegance with an edge. This combination of masculinity and femininity is super chic and rarely found on the streets.
I prefer to style with those cool side zip boots, but you can also rock it with sandals.
2. Leather bomber jacket styles
A leather bomber jacket is an investment purchase well worth making according to Rihanna, Justin, Hailey, Gigi, and other A-list Hollywood celebrities who're often seen donning one during fall.
Bombers emerged as a top fashion trend at the autumn 2021 shows, by spring 2022, they were everywhere.
The leather bomber jackets have a more comfortable fit than a moto jacket, consisting of a ribbed waistband, a front zip, and four pockets.
In addition, they usually come (not always) without a collar, with a finished base of the neck when zipped up.
When it comes to a bomber, there's a lot of room for styling.
You can wear it over black fitted silhouettes and blazers or wrap a sweater around your neck for an athleisure look,
It's also best suited with a white shirt, slim-fit jeans, and slip-on shoes for a classic style.
And if you want to make a statement, pair the jacket with khakis, a solid color turtleneck or probably white sneakers.
Style tips: Bomber jackets always have a retro appeal, for me at least. Most vintage jackets have warm fleece, wool sherpa collars, and wool-blend and are made up of water-resistant nylon or leather. I prefer wearing it over a knit sweater (during the night) or a shirt (during the day).
Also, you can go with dark-colored denim jeans or corduroy to complete the look. You can also wear brown bomber leather jackets casually or dress up with sunglasses to make a bold statement.
3. Colorful leather jackets
The following autumnal days are sure to bring their fair share of unexpected rainfalls, scattered by the occasional dry spells, which means you need to dress accordingly. This also means: it's time to wear a leather jacket that is water-resistant.
A water-resistant leather jacket that acts like a technical raincoat should be your top wardrobe priority for this season. However, if you're worried about your leather being ruined, here's a fun fact: Leather has some water-resistant qualities but isn't necessarily waterproof so you need to pack that umbrella in case you do get caught in the rain.
In this situation, leather bombers in water-repellent waxed or coated cotton will be the best option.
Style tips: You can wear it with jeans, and under a t-shirt with waterproof boots, or even a flip-flop can also do a job – be sure about those frozen toes you get after a cold spell, though.
But rainy weather doesn't necessarily mean muted colors. why not add a bit of spark to your Fall by styling your outfits with colorful leather jackets?
Red leather jacket outfit ideas ideas
4. Leather Jacket with denim shorts
This combination of two staple wardrobes is best when the weather is too cold to be without a jacket yet too warm to wear pants.
A leather jacket is the most versatile piece of clothing that can be paired with jeans, pants, or even trousers. Trying shorts with leather is probably more of a summer thing, but it can also do well when the temperature drops. However, when selecting a color, ensure it matches your jacket.
Style tips: I came across this crazy styling idea when I couldn't get rid of my favorite winter shorts. I paired it with tights, OTK boots, and a T-shirt. This look is best for a girl's day out or a playful evening with your nieces and nephews (if you have any).
You can layer a brown leather jacket over a hoodie for a comfortable, casual look. A close-fitting suede jacket with clean lines also works well over a simple white t-shirt
5. Military-style leather jackets
Military-style jackets have a fitted cut to the body and are usually decorated with buttons across the front of the torso. There's also a zipper on the front along with buttons purely for aesthetic purposes. Unlike bombers, the military-style can sometimes come with an elasticated waistband.
Now, there are so many ways to style a military leather jacket this fall. You can pair it with a V-neck white-colored tee and a pair of blue jeans. This effortless look is perfect for a casual date or a night out with the fellows.
You can also go all-black with a green military jacket, black tee, and black jeans. Oh, so hot!
If that's not convincing enough, you can pair it with your favorite hoodie and dark jeans – a quick causal looks most suitable for running morning errands in the fall.
For girls, they can pair their military with a decent-looking skirt and heels, or you can champion more of an edgy vibe with ripped jeans and studded boots.
Ready to style your leather jacket?
No more tension about how to dress, adopt leather jacket this fall and look stylish and cool at all times.
The leather jacket is the ultimate outerwear solution for when it's chilly outside and you can't figure out what to wear (and a hoodie feels too casual).
The durability and warmth of leather offer broad utility, and even the most basic leather jacket styles have aesthetic appeal. So if you don't have one in your wardrobe yet, the time has come to invest in a quality one (remember, a good quality item is a necessary part if you want to look expensive).
Related posts you'll like: